From the song, Jersey Girl – Tom Waits
"
The Jersey shore of my youth has gone
"...Chris Christie, Governor of
New Jersey
. And with that wistful thought, my mind wandered back in time. I am no longer the girl child, with the pixie haircut, digging up sand crabs and making sand castles. My naïve, worry-free and happy-go-lucky days of my youth somehow blossomed into an insecure, anxious, unconfident and self-conscious teen.
And it all started with just one pimple. One pimple became two pimples and before long, my face blossomed into what is now known as a "pizza face". I had acne – mildly severe to quote a dermatologist. And it plagued me from my early teens through high school. The dermatologist prescribed the antibiotic,
doxycycline
, to get rid of the bacteria and help clear my face. Fortunately, it did help. Unfortunately, I was on "
doxy
" for many months without taking any probiotics or acidophilus (unknown to doctors in the 70's) to replenish the beneficial bacteria in my gut that was killed off by the antibiotic. Come to think of it, did they even have probiotics in the 70's? And so, my gut problems began. But I never put two and two together until years later.
OK – enough teenage angst…so what does this have to do with the
Jersey shore
? Can you take a guess? Soaking up the rays + splashing in the surf + cool, fresh ocean breezes = one thing that was more important to me than a coveted pair of Calvin Klein jeans…my skin cleared up! And I became a different person. I wanted to strut my stuff. I wanted to wear make-up and meet boys. I wanted to be cool. I wanted to break out of my shell and explore my wild side!
My brother Dante, Theresa and me - 1970
And Theresa, my gal pal, boardwalk aficionado, and product of a strict all-girl Catholic school was my "

girls

gone wild

" mentor! Theresa, who had been dating since grade school, took flirting to a higher level and, little ol' innocent me, was fascinated at how she worked her booty! But I have to admit, I caught on quickly. Wearing prerequisite tight, white tank tops, to show off our tans, we would meander our way up and down the the

Pt. Pleasant Boardwal

k

,

flirting with the cute guys that ran the rides, the wheel games, and worked at the arcades. And it paid off! Guys, who we befriended, would let us go on rides for free and, depending on the ride, and let us stay for 15 minutes or more. And then there was the moving the dimes trick at the wheel games. (The wheel landed on the winning number and our charming barker buddy would stealthily move the dime so that one of us was the "lucky" winner.) Between Theresa and me, we collected enough stuffed mini-whatchamacallits to open up our own boardwalk shop!
By the time I was 16, my summer social life expanded to new horizons. And thanks to Theresa, I was the proud owner of a fake college ID! The drinking age at that time was 18 but we couldn't wait that long. We wanted to experience the dive bars, now! So with ID in one hand and a cigarette (the prop of coolness) in the other, we trolled the local bars and clubs in the area. Whether we were just the two of us or in a group, I don't remember ever getting carded or getting kicked out of a bar. My biggest worry was getting home by my 11:00 PM curfew!
College changed everything. Living away from home made me more self-reliant, gave me confidence and at the same time, my skin issues disappeared. I was no longer the awkward young teen, looking to fit in. I was working a summer job back home and only went down the shore on weekends here and there. I lost touch with Theresa. And I lost my feelings for my old summer stomping ground. The shore of my youth… was changing and slowly fading away. The lots, which once were full of wild blackberries, were now new houses. A fenced in car wash replaced the reeds and on the opposite corner stood the epitome of our fast-paced, gottahaveitnow culture – a McDonald's. It was time for me to move on.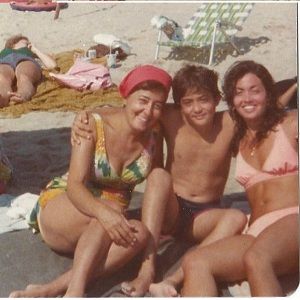 My mom, Dante and me - 1978
I was looking for that long, lost "enchantment by the sea" feeling… again. And I found it farther down the
Jersey
coast. My future husband and I discovered the beauty and serenity of
Barnegat Light
to be the ideal place for summer retreats.
Barnegat Light
, famous for its
Old Barney lighthouse,
is located on the northern end of
Long Beach Island
. I loved biking around the sand-lined streets, browsing among the antique and craft shops, wading in the tide pools, walking on the wet sand to the inlet jetty and watching the sunset over
Barnegat
Bay
. It was the perfect rejuvenation for my body, mind and soul.
The Jersey shore of my youth is gone. But I will always hold all those fond memories in a special place in my heart and soul. It was my love affair, my ritual, my rite of passage. It was my childhood adventure and therapy for my teenage problems. It was a beautiful dream. And it was what summer was all about.